CMC continues with its fight against COVID and its commitment to provide quality care with compassion. This page gives you insight into how the hospital responded to the pandemic in the first wave.
You can read about the 2nd surge in COVID cases and how CMC is responding here:
Help us treat those who cannot afford the full cost of their treatment
Rs.7,500 will pay for a day's care for a patient with moderate COVID (who doesn't need ICU treatment).
Rs 28,000 will pay for one day's care in ICU.

On average, patients needed 10 days in ICU with COVID in 2020.
How your donations helped in 2020
You can read more about what you helped to provide during the first COVID surge here: Thank You for 2020
What we did in the 1st Surge
There have been many changes throughout the hospital since March 2020. Changes in both the structure of the hospital and how things are done. This page will show you how donations have helped us and how we have adapted to COVID-19.
If you would like to know what we now need help with, then please go to the Fighting the COVID-19 Pandemic page.
Adapting our hospitals
Our hospital buildings needed many changes to fight the COVID pandemic. We rapidly expanded the number of beds available to isolate and care for people with the disease. And a great deal of care and attention has been given to keep staff and patients without COVID safe.
Buildings were adapted to keep COVID wards and treatment areas separate and protect our non-COVID patients. Separate routes were created for entry and exit into many COVID care areas.
The Accident and Emergency Department has been split into COVID and non COVID areas. Each has a separate entrance.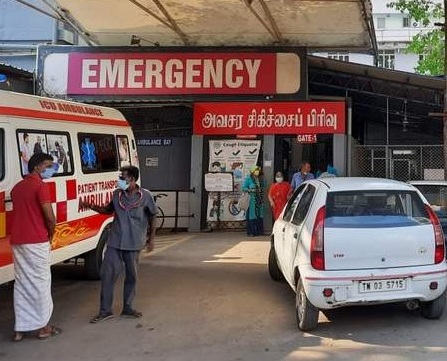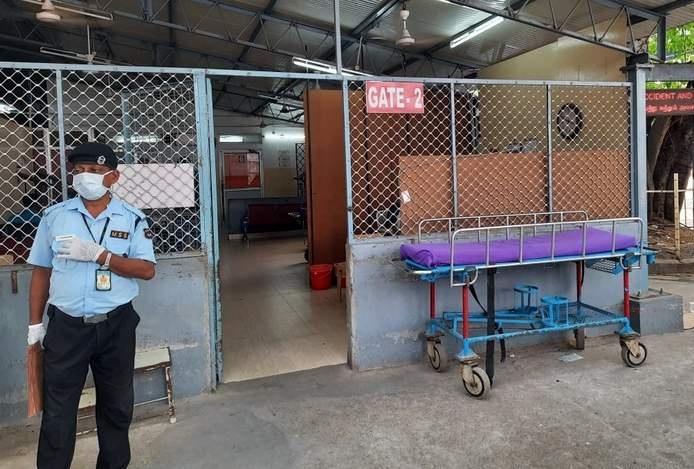 Lifts are designated for COVID and Non-COVID patients.
Some Operating Theatres were changed to negative pressure theatres.

These are used for high risk patients suspected or known to be positive for COVID.
Negative pressure sucks clean air in and prevents any airborne virus from escaping outwards.

Fever clinics and swab testing kiosks were set up.
Our canteens were changed. We created

one-way routes through the hospital canteens.
larger queuing areas to allow for social distancing.

Canteens now serve only take-away packets, there is no eat-in service.
Outside hand wash facilities were provided
Large outside waiting areas were created where possible.

These allow social distancing and give good air flow
The main hospital, Chittoor, RUHSA, CHAD and the Eye Hospital all needed to make rapid changes to care for patients with COVID. Many other practices have been introduced or changed to keep everyone safe.
Kannigapuram opened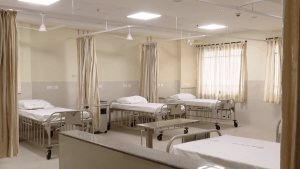 Kannigapuram is our new hospital campus which will be a trauma centre and lifestyle diseases hospital. However, CMC saw the need for hospital care for patients with COVID. And Kannigapuram was opened for a few months just for patients with COVID.
168 beds were opened for patients who were asymptomatic or had mild symptoms in June 2020.

Some tests can be done in the hospital eg X-rays, some blood tests. Others are sent to the main hospital

Outpatients are available only for those with COVID who needed to be seen and/or tested.
ICU beds and a CT scanner were not available in 2020.
Kannigapuram is nearing completion with hopes it would open fully after June 2021. It may need to open early, with work still to do, for this second surge.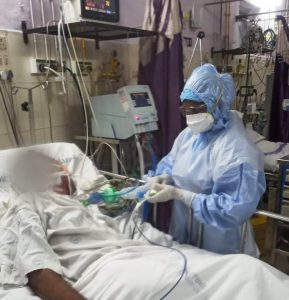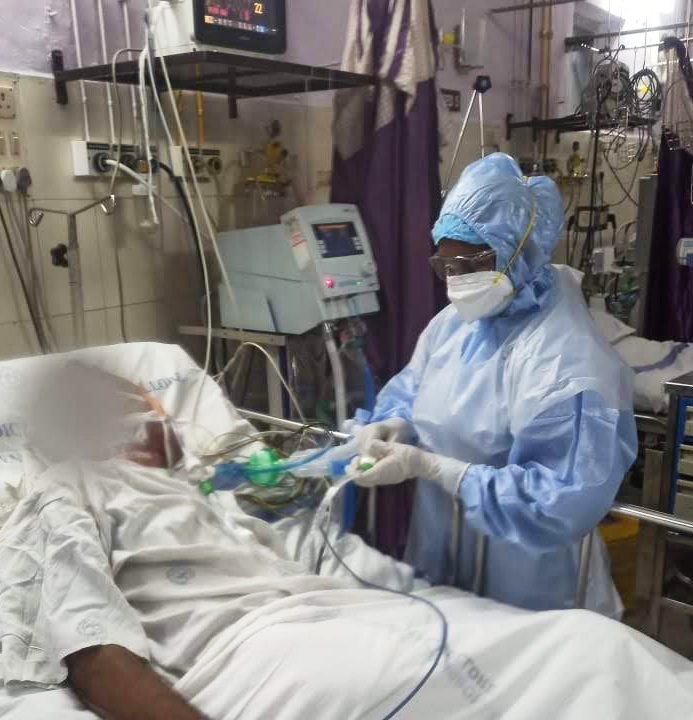 Protocols for Staff and Patients
Surgical masks are provided for all hospital staff

N95 masks and full PPE for those in high-risk areas.

Protocols are regularly updated. These keep up to date with the published evidence and government regulations.
The COVID command centre was started – see below for more details.
COVID Command Centre
A COVID command centre,CCC, was set upand ran for several months. It was based in classrooms and lecture theatres in the ASHA block. Their job was
Policy making,
Reporting COVID swab test results,

Patients are informed of their result by telephone and advised what to do if they are positive.

Contact tracing,
Human resource management,
Allocating patients to beds.
It was wonderful when this was closed after the first surge, but it has now been reopened in order to manage this second surge.
Some of the staff work here permanently. Other volunteers come from different hospital departments. They work at the CCC for up to two weeks at a time. A similar arrangement happens to cover the COVID wards. Staff from departments that are no longer busy with their non-COVID patients can undertake training to update them to the current COVID treatment protocols. Then, rotate 2 weeks onto the COVID wards or OP assessment areas then back to their own departments.
Awards for Excellence
CMC's hard work to make the hospital safe for everyone and provide excellent care was recognised. CMC was won 3 awards for excellence. You can read more here: Three Awards for Excellence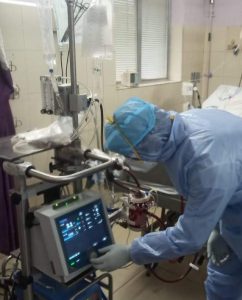 CMC has spent a huge amount of time and money to keep our patients and staff safe. Initially, this involved daily meetings, reading research publications and government instructions and making policies from that. The meetings decrease in frequncy when the COVID case numbers dropped. Our staff continue to keep track of the best way to protect and treat everyone.
We are pleased to tell you that this diligence has been recognised. CMC received the following awards:
"Workplace safety during the COVID-19 pandemic":
1st prize awarded by the Consortium of Accredited Healthcare Organizations (CAHO) for the very large hospitals category (over 600 beds).
"Excellence in Hospital Preparedness for COVID-19":
awarded by the Federation of Indian Chambers of Commerce and Industry (FICCI)
"Best Charity Hospital combating COVID-19"
awarded by the India Today Group in the India Today Healthgiri Awards. Link to video here.
An interview with the director Dr JV Peter
You can read more on the approach to the pandemic here. Dr JV Peter, Director of Christian Medical College, Vellore talks with Arunima Rajan from Healthcare Executive in February 2021 just before this 2nd surge.
Read more here: Collaboration is the Key Focus Area during this Pandemic Year for CMC Vellore
Training for Vellore & beyond
CMC had to train its own staff in procedures to deal with the CoVid pandemic. There were two prongs to this. One is to know how best to care for those with CoVid. The other is to protect our staff from CoVid. We have then extended this nationwide.
CoVid Training material has been produced and used to train our staff, using online and face to face approaches.

Doctors and nurses from many different departments have been trained to look after patients with CoVid.

They spend a 1 or 2 week period working on the COVID wards or triage.
Then they return to their normal departments.

Cleaners, laundry department, transport staff and others were trained to keep themselves and everyone else safe.

The Distance Education Department adapted the materials. Then made them available to 5,000 doctors and nurses in hospitals around India.
A training course, Suraksha, has been launched. This is aimed at 100,000 grass-roots level workers.
CMC professors have given webinars and talks on scientific and medical issues concerning the Coronavirus.
You can read the moving stories of how some of our staff how have responded to this pandemic in the Messengers of Peace booklet. See below for more details.
New Services to help Patients
Traditionally, CMC sees patients who have travelled many miles from all over India and beyond. During the Pandemic, such travel has not been possible. So CMC has started new services to help both our existing patients and new patients.
Hospital Help Line
A new Hospital Helpline has been started for patients.
The help line is available in several different formats. The staff can answer enquirers non-medical questions such as
Can I make an appointment with this doctor?
Who should I see with this problem?
My medicines have not arrived yet where are they?
Medicines can be sent by courier, and are tracked, The staff can show patients how to use the tracking.
When will my test result be ready?
If the staff cannot answer their questions themselves, they will know who to ask or who to refer them to.
People can phone, email, or use WhatsApp for information about appointments, CoVid etc. You cannot actually book an appointment with the call centre. But they can help you book the appointment. Here are the details:
| | |
| --- | --- |
| Telephone | +91 8000338855 |
| WhatsApp | +91 9385285957 |
| Email | callcentre@cmcvellore.ac.in |
| Working hours | Mon-Fri: 8 am to 4.30 pm |
| | Sat: 8 am to 12.30 pm |
CMC Help Line Details
Teleconsultation
Travelling around India remains a real challenge. During the earlier strict lockdown, travelling was almost impossible. So in April, CMC started teleconsultations for patients who had been to CMC before. Not all departments are available, but the list is online for patients to check before trying to book.
STOP PRESS: Teleconsultations are now available to people who have never visited CMC before. Book here: Teleconsultations.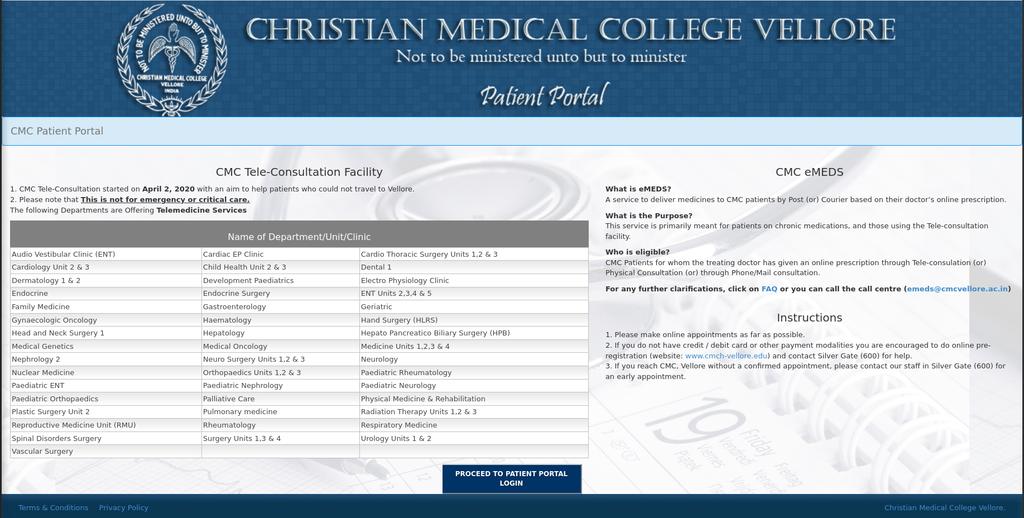 This consultation is either via a telephone call or using a dedicated program to video call patients.
Patients pay for and book a consultation.
Then the department will give them the day and time for the consult.
This service will save many patients the need to travel for 48 hours or more to the hospital, stay in Vellore for a week with the cost of accommodation, travel and food. Plus, the cost and time of the travel home again. Obviously, some parts of a traditional consultation are not possible, but for many, this is a very helpful service.
eMeds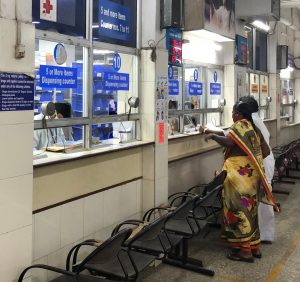 CMC has also made getting medicines easier for our patients. A CMC prescription can be filled in our pharmacy. Then, if necessary, posted to the patient anywhere in India. The eMeds service was started to streamline this. Again, a great help when travelling is so difficult.
Anybody who has been given a prescription by a CMC doctor can use this. So patients using telemedicine, email to ask for repeat medicines etc can use this. They pay for the service and have these medicines* delivered to them. There was an informal system before. But the system is now available more easily to all patients.
You can read more about this services: eMed FAQ
You need to be logged in as a patient to use the service.
*Please note that not all medicines can be provided this way.
New Paul Brand block
The Orthopaedic block, Paul Brand Block, will be dedicated on May 3rd and open for COVID cases shortly after this. The old student nurse hostel is being converted into an orthopaedic block. There will be wards, 12 ICU beds and operating theatres. It was due to open in 2020 but the COVID pandemic delayed the work.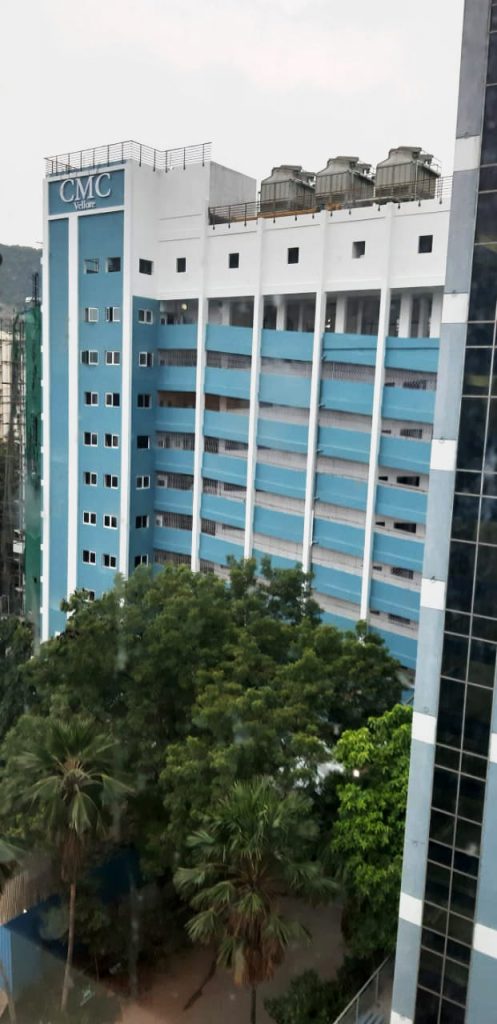 ---
Messengers of Peace booklet
At the beginning of the first surge staff were invited to submit their reflections on the COVID situation. This resulted in a beautiful anthology of stories from a range of staff across our hospitals. Nurses, drivers, canteen workers, doctors and more tell us their stories.
Read their stories here: Messengers of Peace