COVID-19 Care at CMC – 3rd wave
As the 3rd wave is rapidly spreading around the country, the situation at CMC Vellore is evolving on a daily basis. Like in the previous waves, we have implemented our contingency plans for fever clinics and testing. COVID wards and ICUs are up and running. Community programmes and the monitored home isolation programme are in place. Vaccinations and boosters are available for Health Care Workers and children.

We seek your support during this time of uncertainty.
Poor patients need urgent support, especially those with who cannot afford treatment
Raise awareness about UDHAVI – a 24/7 helpline for patients in Vellore District, run with our local partners
Adhere to COVID-19 protocols – wear a mask, wash your hands and maintain social distancing
Your prayers and support having kept us going during the last two years of the pandemic – thank you.
Please support COVID Patients & Frontline Health Care Workers. Donate today.
Watch the video of the Omicron update by our doctors and experts.
Pandemic Impact Report
CMC is grateful to the many hands that reached out in support during the pandemic. We are privileged to share our "Impact Report" which captures some of our unique experience and key learnings.
Second Wave – Urgent Needs
India is battling a devastating second wave of Covid-19 infections. Join CMC in fighting the COVID-19 pandemic.
The number of new cases of COVID19 diagnosed in Tamil Nadu has started to come down. (This is after the confirmed cases doubled from 200,000 per day on 15th April to over 400,000 in two weeks). However, there are still over 20,000 new cases each day in Tamil Nadu alone (June 8th, 2021). This is a lot more than we saw at the height of the first peak in September 2020.
We still need your prayers and generous contributions.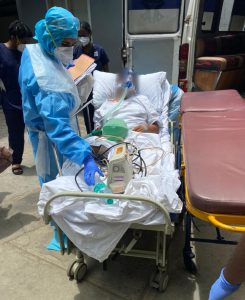 COVID Beds in CMC
At the peak in May 2021, CMC had up to 1,150 inpatient beds for COVID patients (as well as patients being monitored at home).
The total number of beds for COVID are slowly going down.
BUT, ICU beds are still needed for very sick patients

CMC has 167 ICU beds that are full (June 8th 2021).
COVID care at Kannigapuram
Kannigapuram hospital, our new campus, opened in May and now has 168 beds for COVID patients (June 8th, 2021).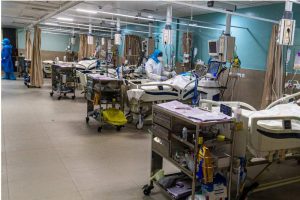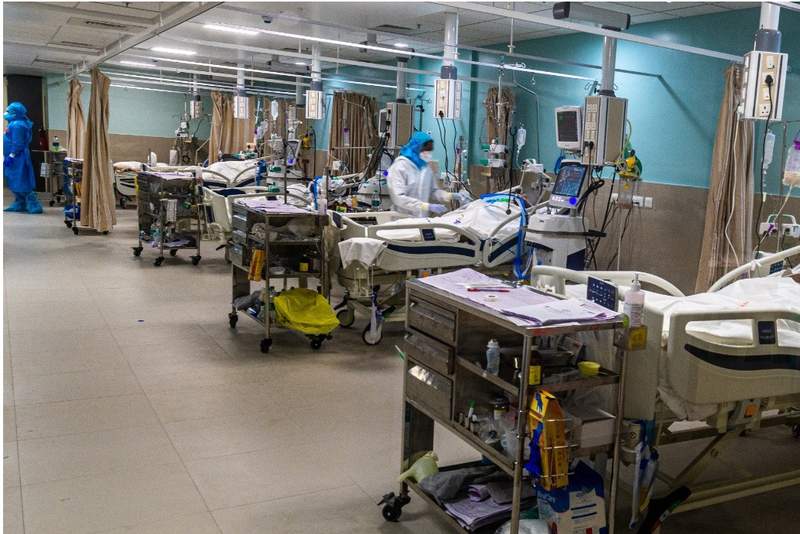 A large oxygen concentrator was put in during the first wave in 2020.

This has given a steady flow of oxygen for the patients needing it there.

There are also 36 ICU beds at Kannigapuram.

These have been equipped using generous donations that have been given since April this year.
What next?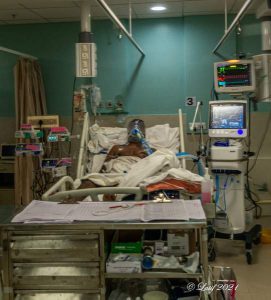 We are very aware that the situation could change. The number of COVID cases may rise again.
Around 70 patients were waiting for ICU beds near the end of May.
The ICU beds were full, so

We had to look after them in the wards and give the best treatment we could.

We used non-invasive ventilation (NIV) for these patients.
---
What we need
We want to get another 2 ICU pods equipped in the new Kannigapuram hospital. This hospital was designed to be a centre for trauma and non-communicable disease. The COVID pandemic has seen that role change. The hospital is near completion and has wards that are structurally complete. But we need the ICU equipment to be able to treat sick patients with COVID. The photos below show the ward partially equipped and the lovely views that they have.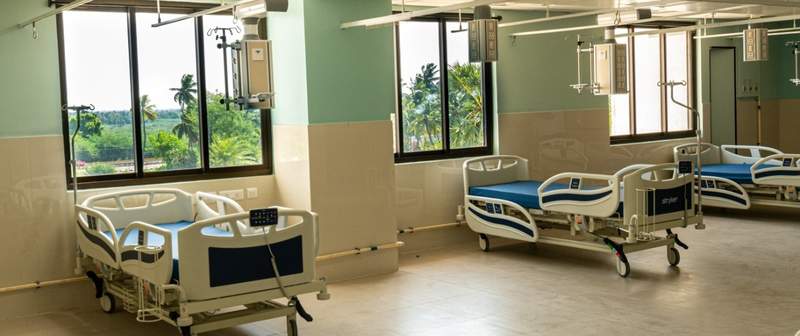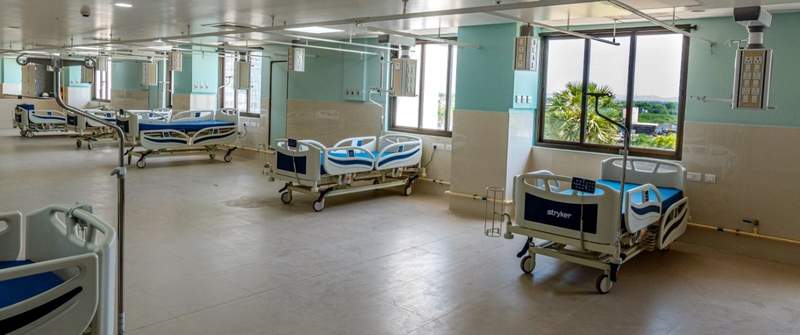 Our immediate need for ICU equipment.
For each ICU bed we need:
A ventilator
A monitor
Several pumps – for fluids, medicines and nutrition
Costs for ICU Bed
Equipment needed per bed
Unit Cost
Rs
Ventilator
₹13,45,350
Monitor: mid-range x1
₹2,50,000
Syringe Infusion Pumps x3
₹1,27,680
Infusion Pumps for fluids x1
₹42,560
Food Pumps x1
₹40,320
Total cost for 1 ICU bed*
₹18,05,910
*Additional equipment is needed for some beds.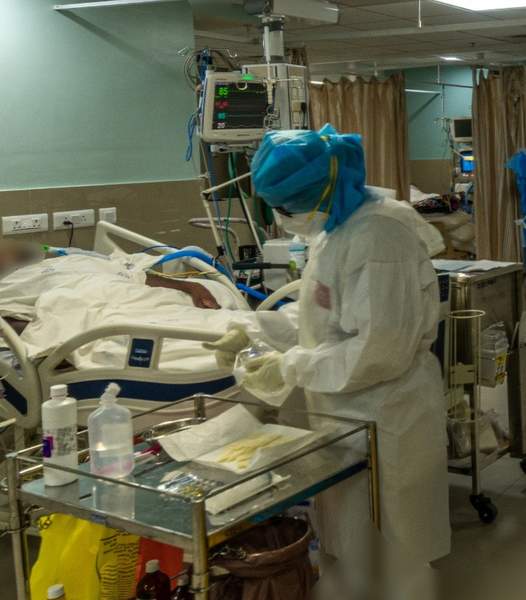 Our need for general wards
We also want to equip 3 general wards at Kannigapuram for COVID patients. Each ward will have 56 beds – this will give us an extra 168 bed.
For the general wards we need
One normal hospital cot per "bed"

One cot frame and one mattress per bed

One bedside table per "bed"
Other furniture for use in the ward
Costs for General Ward Bed
Equipment needed per bed
Unit Cost
Rs
One Adjustable Cots/Bed
₹16,048
One bedside table
₹3,983
Total cost for 1 general bed*
₹20,031
*Additional equipment is needed for some beds.
Equipment we still need
We still need other pieces of equipment for the wards. Oxygen flowmeters will show what the flow rate of the oxygen is. Suction apparatus is used to help keep the airways into the lungs clear, to remove secretions.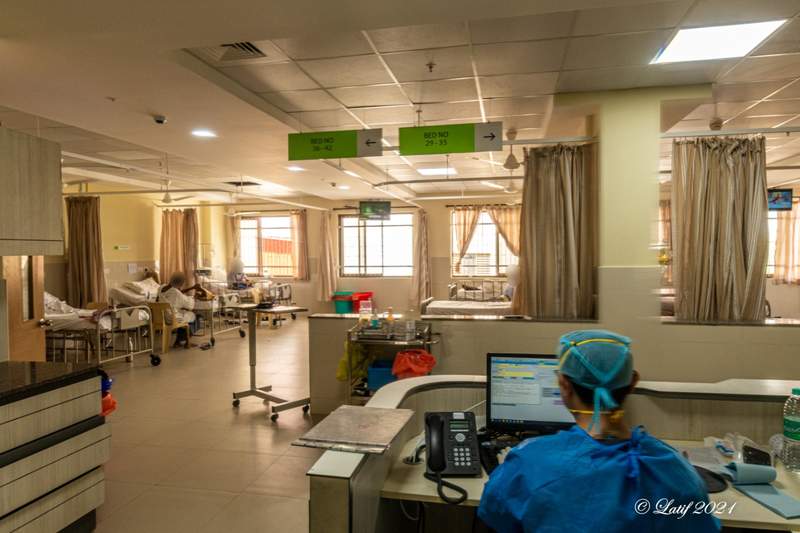 Total Cost of One General Ward
| | |
| --- | --- |
| Equipment needed for One General Ward | Rs |
| 56 Adjustable Cots/Beds | ₹898,688 |
| 56 Bedside tables | ₹223,020 |
| Other Equipment for Ward | ₹53,05,178 |
| Total Cost for Ward | ₹6,426,887 |
Read how you can support our Staff.
You can read about how you can support our patients and staff here.
---
Thank you for helping us to buy BPAP machines
During the first wave of the pandemic, CMC successfully used non-invasive ventilation (NIV) to help COVID patients with breathing difficulties.
Bi-level Positive Airway Pressure (BPAP) devices push air into the chest through a face mask without the need to put a tube down the throat. This opens up the lungs and improves oxygen levels. It also makes breathing easier and prevents the patient from getting worn out.
Advantages of BPAP non-invasive ventilation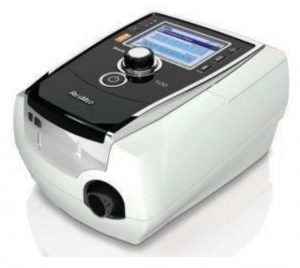 No tube is passed through the mouth and down the throat, so the patient doesn't need to be sedated.

Also, when safe to do so, they can take the mask off for short periods so that they can talk and eat.

There is much less injury to the airway, throat and lung when ventilation with NIV.
It is simpler and less risky to wean people off ventilation (gradually stop the ventilation), as they recover.
The BPAP machine is much cheaper than a standard ventilator, and the consumables cost less.

Consumables include the masks and tubing.

NIV machines can work from an oxygen concentrator

They don't have to depend on the liquid medical oxygen which is in such short supply.
Non-invasive ventilation is not suitable for all patients with Covid, but where it works it is a much-preferred option.
---
New Cases of COVID in India
This chart shows the Daily New Cases from the World in Data site, the rolling 7 day average: It is slow to load……..
COVID in Vellore

In April and May, Vellore saw increasing numbers of cases of COVID among both staff and townsfolk. As a result, the hospital had increasing numbers of people coming in with COVID and needing admission. The photo above shows 6 ambulances outside the COVID emergency entrance at the same time in May, something very rarely, maybe never, seen before this second surge.
However, the hospital still had patients without COVID who arrived before this surge. So, the hospital had to create more dedicated COVID beds. Most days, in May, saw non-COVID areas becoming COVID treatment areas and this continued for some weeks. The government asked CMC to create 1,500 COVID beds and CMC worked towards caring for as many patients with COVID as possible.
Join CMC in fighting the COVID-19 pandemic and donate now:
Read more about how to
Donate for Patient Care
Read about how we have opened the new Kannigapuram hospital: Kannigapuram ICU dedication.
and transferred patients to the new ICU there: Transferring patients to Kannigapuram.
---
Oxygen concentrators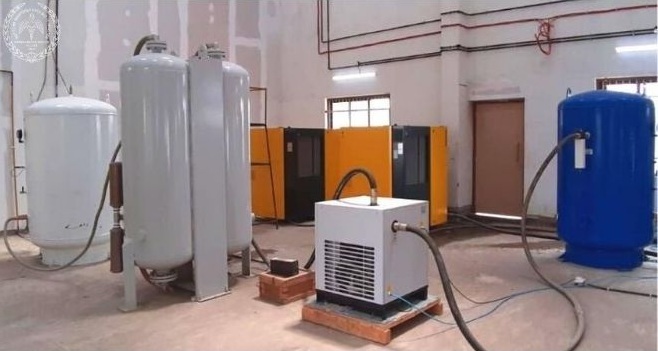 We had to urgently install another large Oxygen concentrator (not portable) in the main hospital.
An oxygen concentrator takes the other gases from the air and so increases the percentage of oxygen. This is done ON SITE. So you do not need cylinders of oxygen to be transported to the hospital. There was huge demand for oxygen within India (and still is but to a lesser degree), so being able to make more of our own oxygen makes a huge difference.
We also needed smaller portable oxygen concentrators. These can be used with just one or two patients. Donors were incredibly generous and helped us to buy, or donated, many oxygen concentrators that are currently being used by patients.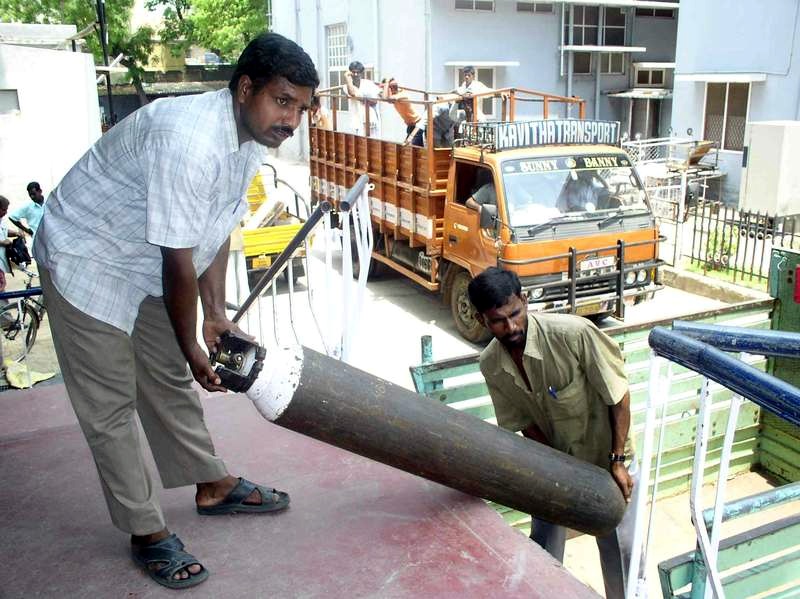 Oxygen cylinders were also needed for beds that do not have an oxygen supply to them and when patients need to be moved around the hospital eg for scans.
Your donations have helped us buy both portable oxygen concentrators and oxygen cylinders that we needed.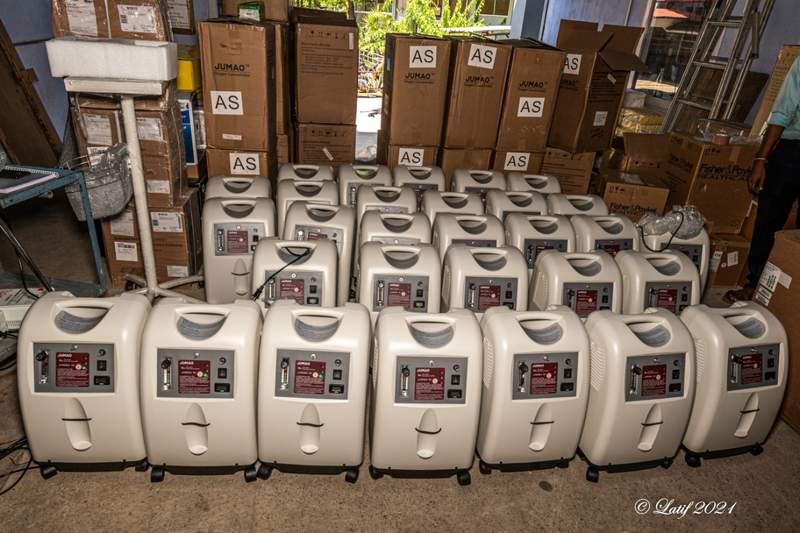 ---
Your help fighting COVID: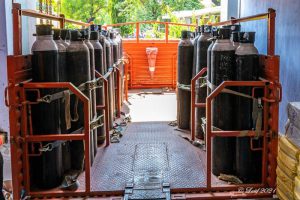 We removed some of the donation buttons because your amazing generosity allowed us to purchase what we needed:
Oxygen cylinders: Your donations have let us buy all 300 – costing Rs.4,500 each. Thank you.
Item
Number
Needed
Number
Donated
Amount
Donated
Oxygen Cylinders
300
300
₹13,50,000
Donations for the Oxygen cylinders we needed
You also helped us to build and equip the Paul Brand block that opened on 3rd May 2021.
Thank you
Thank you to all our friends for your overwhelming response in helping us to fight the COVID-19 Pandemic during the first wave in 2020! With your generous contributions, we have been able to prepare and respond to the COVID Pandemic. You can read more about what you helped to provide here: Thank You for 2020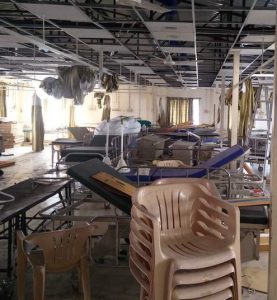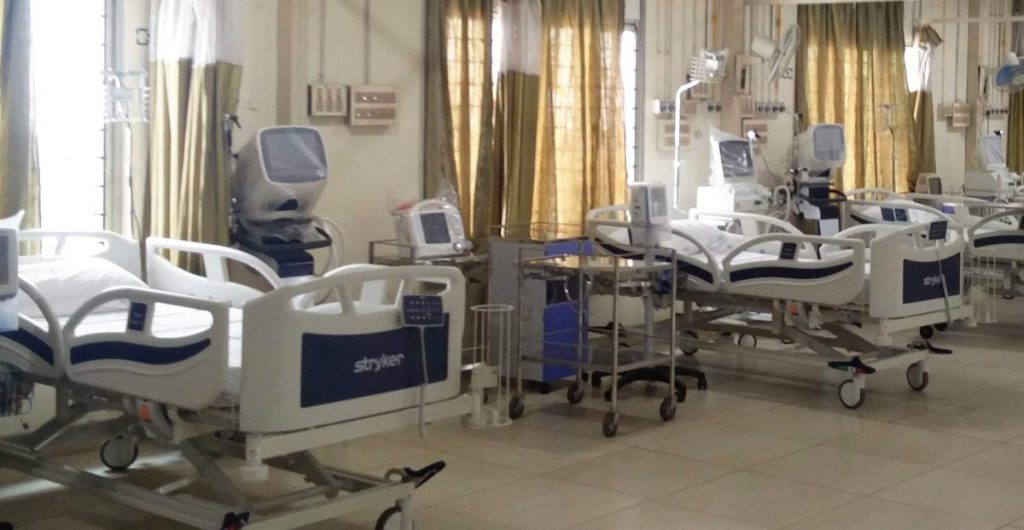 Stay Safe
You can help us by remaining healthy and safe. Keep yourself and your family safe by following government advice about staying at home when possible. People over 60 years old and those with underlying medical problems should take extra care.
Wash your hands often,
Wear a mask when outside and
Keep physically separated, ideally 2m apart, as much as possible.
And get vaccinated if you can get there safely. Vaccination is vital and life saving, but not if you catch COVID while travelling to the place you will be vaccinated. So please seek advice locally about where you can be vaccinated and whether you are safe to travel to the place of vaccination.
CMC Messengers of Peace
CMC Vellore remains committed to serving and caring for our patients. You can read stories from the early days of the pandemic in this beautiful anthology "Messengers of Peace"
Read more about them on this web page or download the anthology below: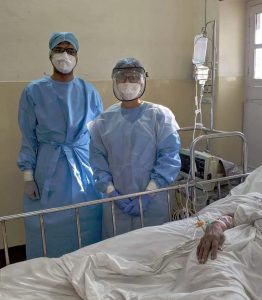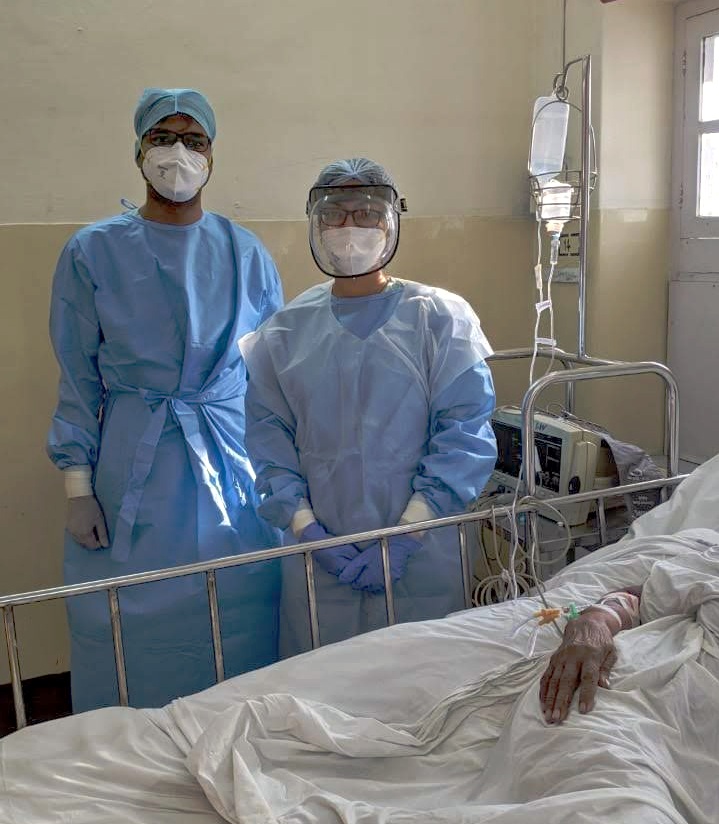 ---
Information about COVID
The CMC website has information and resources about COVID for everyone. This includes how to make appointments at CMC, expert views on the disease, how to wear a mask etc.
You can read it here: COVID Information
Calculation assumptions
Numbers quoted on this page are based on the following assumptions:
*6 working days in a week
**26 working days in a month