Dhanya* is a cheerful girl from the slums of Vellore. However she was born with a weak right leg. When she was four years old she fell and hurt herself while playing. The little girl could not stop crying from the severe pain in her leg. Her worried mother brought her to CMC Hospital.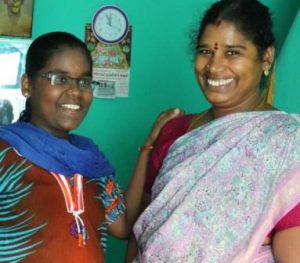 The doctors said they could correct Dhanya's leg with surgery. "I am a flower-seller in the market. I cannot afford to pay for any operation," wept her desperate mother. Our doctors knew that this surgery would transform Dhanya's life. Thanks to generous PTP donors, they were able to operate successfully without worrying about the cost. Today, eight years later, Dhanya is a strong and confident young teenager who says, "So many people helped me, now I want to help others". She dreams of becoming a doctor when she grows up.
Over the last 45 years, thousands of caring friends like you have helped to transform the lives of our disadvantaged patients through CMC's Person-to-Person (PTP) programme. We are grateful to the helping hands reaching out to us from different corners of the globe. To magnify the ripple of giving, CMC multiples your gift by five. Spread the joy, five times the joy, donate to PTP today!
Thank you for your support,
Hugh Skeil
Development Office, CMC Vellore
PS. Click here to read more about CMC's PTP programme
*name changed