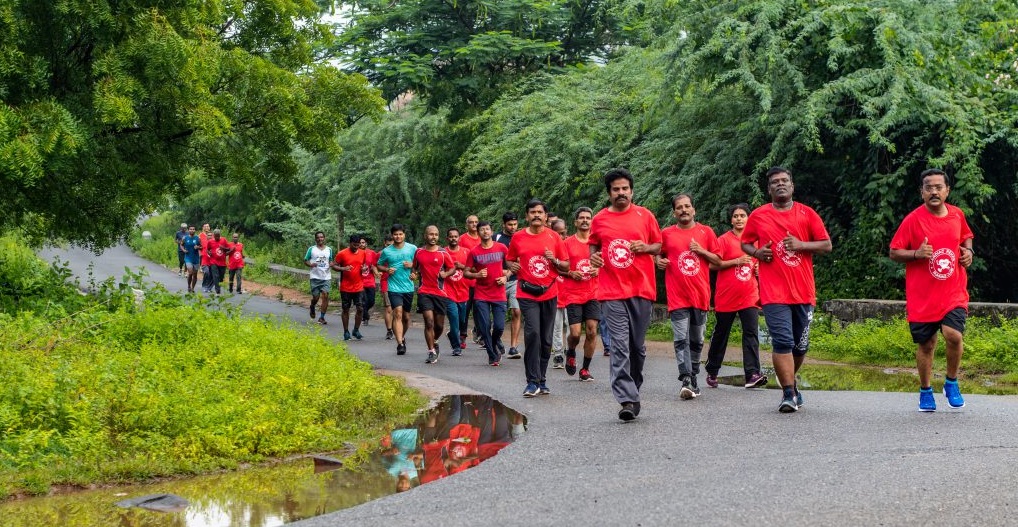 Please help save a heart today.
Heart disease kills more people than anything else in the world today. But you can help save a heart by supporting CMC
Lakhs of Indians die of heart diseases and related conditions every year. Many of these deaths can be prevented by leading a healthy lifestyle and behaviour.
CMC doctors did the first open-heart surgery in India in 1962. Since then we have saved 18,000 hearts!
Our Departments of Cardiology and Cardio-Thoracic Surgery care for around 7,000 patients per year. But, many of our patients can't afford to pay for their operations. So our Person-to-Person fund and other funds help to bridge the gap.
Help save a heart today:
Donate to CMC!
Help Save a Heart – Your heart
---
You may be having a

Heart Attack

if you feel
Sharp chest pain or a heavy feeling or tightness toward the

Left side of the body,
Left arm,
Neck or
Back.

Dizzy, sweaty, breathless or faint.
Burning in the stomach
If these persist, please contact your doctor

immediately

.
---
A heart attack doesn't need to be the end.
CMC's Cardiac Rehabilitation team helps survivors recover, enjoy healthy, happy lives. Some even become marathon runners.
Read about heart heroes like Rani
Read more about our runners who found new life after a heart attack.
You can read more about the runners and their stories below. And see how the lives of these patients have been transformed. Click on their photos.
Help Save a Heart
---
A Healthy Heart is a Happy Heart!
Eat healthy
Exercise & be active
Stop smoking and drinking

Read about a Healthy diet on the WHO site
Listen to a podcast from the World Health Organisation on following a healthy lifestyle
---
Click on the pictures of the runners to read more about their stories.
CMC's Cardiac Rehabilitation team brings together doctors from Cardiology and PMR, cardio-technicians, physiotherapists and nurses.
Their passion is saving hearts! They believe that heart attack survivors can keep their hearts in good shape through structured exercise and a change in lifestyle.
This is one of the many multidisciplinary clinics that CMC run. These clinics bring together all the people a patient may need to see in a "One Stop Shop" – you see everyone in just one visit and one clinic.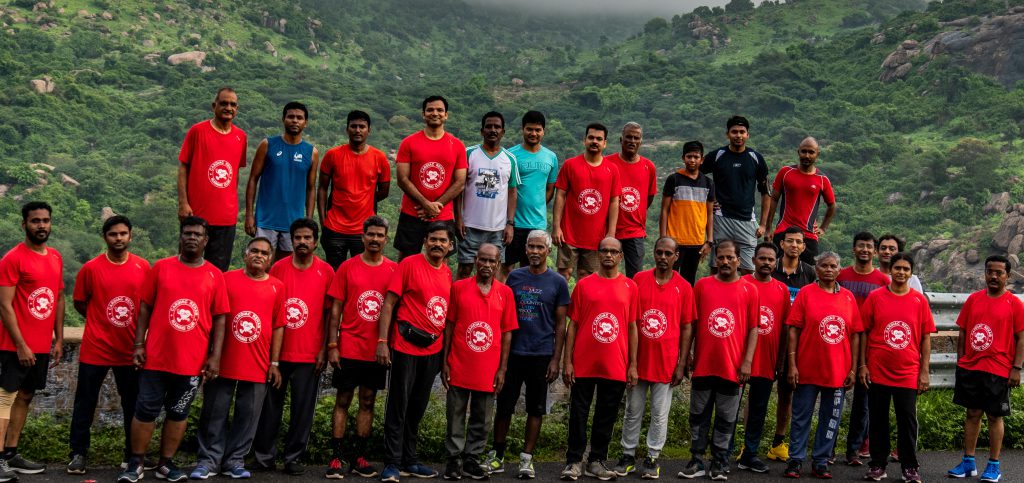 The Running Club members have successfully completed a half-marathon of 21 kms! They also attempt challenges like running up the steep hills around Vellore. Some of the members have registered to run the Chennai Marathon in 2020! The Running Club members are an inspiration to all of us – after surviving a heart attack, they have completely transformed their lives and health!
After a heart attack, patients are scared …
"After a heart attack patients are scared to do strenuous exercise. They slow down to protect their heart," the team explains. "They may climb stairs slowly or avoid them completely. And, may stop playing a favorite sport. But it doesn't have to be this way."

"The heart is a organ made of muscles, similar to muscles in our hands and legs. Heart muscles can undergo positive changes with structured exercises."
"That's why even after a heart attack, the survivor can be a marathon champion!"
The Cardiac-Rehab team provides exercises, made specifically for each person, as early as one week after a heart attack. Patients undergo supervised training for 3 – 5 months.
Each patient is closely monitored by the team. By the end of the programme, their endurance and confidence increases. As they get fitter, their heart rates also reduce. And this means less stress on the heart. When they are able to run 5 -10 kms, they can join the self-supported Running Club.
All of us can learn from the Running Club. We can take up regular structured exercise to keep the heart in good shape! A healthy lifestyle brings down the chances of having a heart attack. Exercise can also help control their weight, reduce stress and fight other serious diseases like cancer.
Help Save Your Heart
Please note:
Are a heart attack survivor?
If so, please talk to your doctor about the most suitable rehabilitation for YOU.
You can start with walking or other gentle exercise. You slowly build up how much exercise you do and increase the intensity levels. Stop and see the doctor if you notice any chest tightness, pain, or other symptoms.
You can make an appointment at CMC here
Have you been to CMC before? You can make a teleconsultation to see your consultant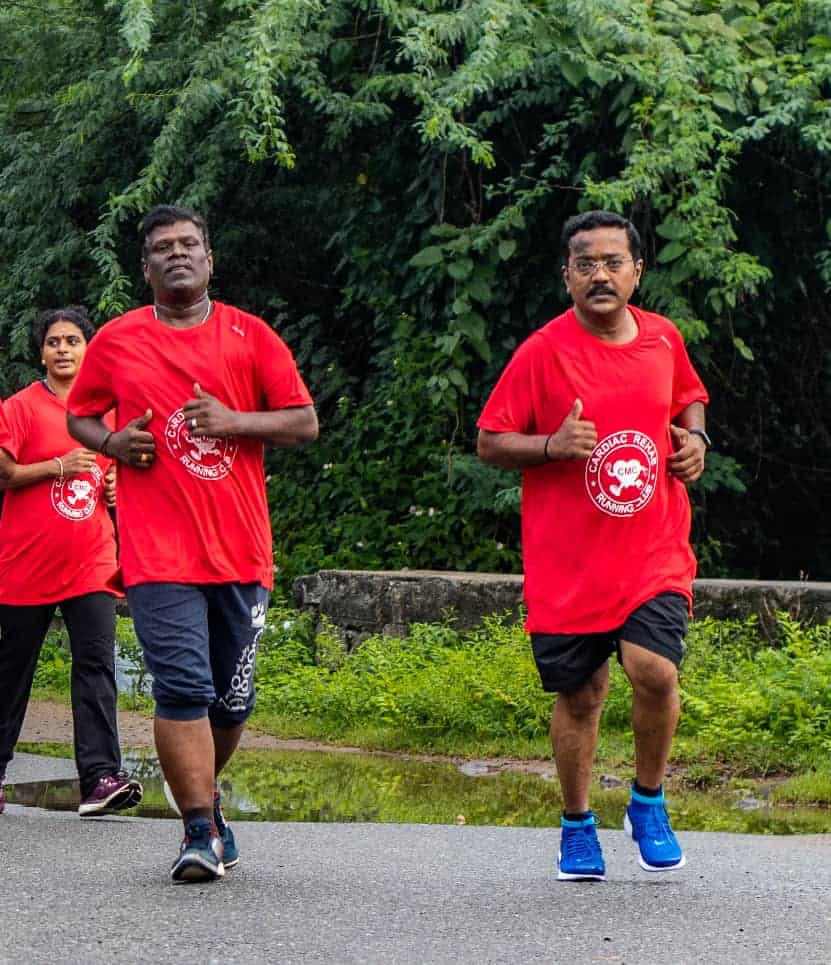 Heart Attack to Half-Marathon!
Sathyamurthy, 49, is a business man in Vellore. He is also a Marathon runner. He recently completed a half-marathon in two and a half hours!
"No one believes that only six months ago I suffered from a heart attack,"

he says and tell us his life-changing story.
"On the 22nd of April 2019, I felt an unusual pain in my jaw and my left arm. It did not bother me initially but the next day the pain worsened. My drinking and smoking habits put me in a high-risk group so my friends urged me to get admitted in CMC. They thought I might be having a heart attack. I walked down to CMC Hospital and got admitted in the Cardiac Emergency Unit. "

"The doctors did an operation and put a stent into my heart. My friends and family took great care of me. They did not allow me to do difficult work which might hurt my heart. My family even thought of shifting our home to the ground floor so I need not climb up the stairs.After my operation, I joined cardiac rehabilitation program. The doctors asked me to start jogging and running."
"After a heart attack, would I be able to run?"
"I was very scared of overworking my weak heart."

"The team encouraged and motivated me. Even though I doubted myself, they never gave up on me. They pushed me to do more. I slowly gained confidence and started to run a little more each day. I love my rehab sessions because the team has become like my family.
When I open the door in CMC, I feel like I'm coming home! I have a new life and a heart full of gratitude!"
The Cardiac-Rehab team is also amazed at Sathyamurthy's progress. They are proud about how far he has come in his journey after the heart attack. He has given up smoking and drinking. With regular exercise and healthier food habits, he has lost 10kgs in the last six months. He is punctual for all his rehab sessions and is an active member of the Running Club. He has registered to run the Chennai Marathon in 2020.
From heart attack to half-marathon, he is a wonderful example of how a survivor can become a strong sportsperson!
In January 2021, Satyamurthy completed a full marathon (42 km) in Chennai. Read about it here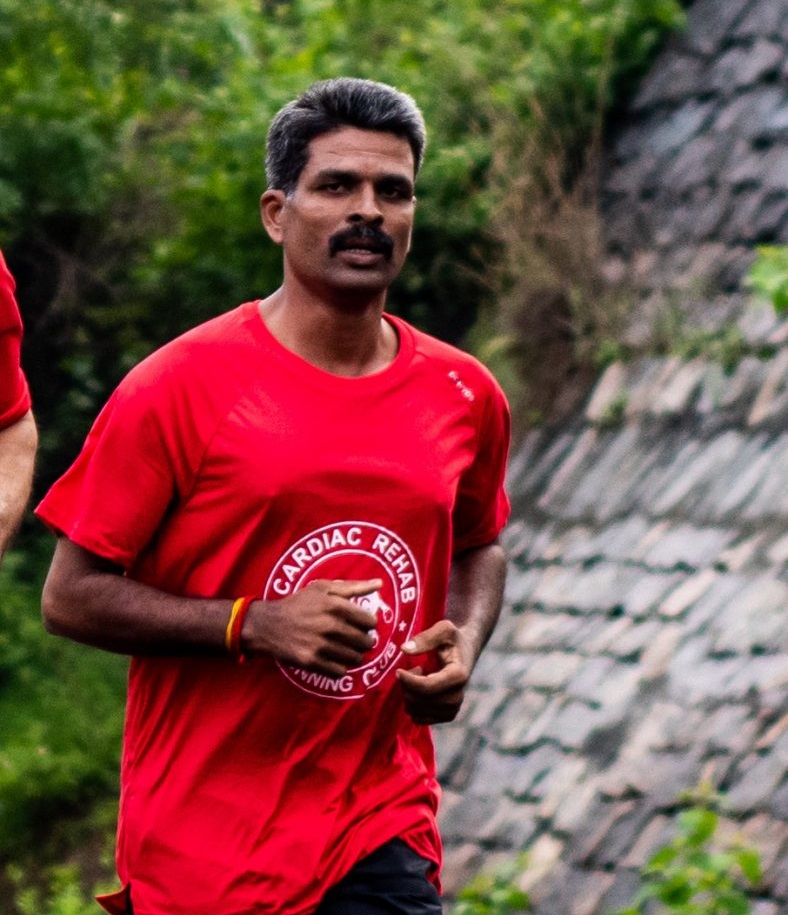 There's Life after a Heart Attack!
Srinivasan, 37, is a carpenter in Vellore. One day, while eating breakfast, he felt a gripping pain in his chest.
"Could it be a heart attack?"

Srinivasan panicked, as his friend rushed him to CMC Hospital.
In the Cardiac Emergency, his worst fears were confirmed. He was having a heart attack and was instantly wheeled into the operation theatre for surgery. Four days later, he regained consciousness. He immediately thought about his family, his wife and two teenage children. "Why did this happen to me? I don't have any bad habits," he cried. Srinivasan felt depressed and wanted to go home. But the doctor advised him to join the Cardiac-Rehab programme.
"You can get through this difficult time," the Cardiac-Rehab team encouraged him. In two weeks, they motivated him to start jogging. And, with regular exercise and treatment, Srinivasan slowly returned to his cheerful self. He overcame his fear of another heart attack. He became an active member of the Cardiac-Rehab Running Club. Every Sunday, the club members train together in a sports ground. Last week, they ran up steep slopes to the top of the Palamati hills, and Srinivasan was right in front, leading the pack!
As we celebrate World Heart Day this week, Srinivasan shares his message for others with heart problems, one year after his own heart attack:
"Don't be afraid. Keep your courage up. There is Life after a Heart Attack!"
---
---
A healthy heart is a happy heart!
Bhaskaran, 45, had an unusual pain in his right arm. So, he took time out of his stressful schedule as a Housing Society Secretary to have a checkup. The local clinic told him it may be muscle pain and there was nothing to worry about. However, the pain persisted for a few days, so Bhaskaran drove to CMC's Cardiac Emergency Unit.
An angiogram revealed a large block in his arteries, so the doctors performed an angioplasty, saving his life. His joint family looked after his wife and two school-going children while he was in the ICU.
Two weeks after the operation, he was introduced to the cardiac rehabilitation program.
The Cardiac Rehab Program
"You can train and get your heart into good shape, Bhaskaran," the team encouraged him. "Soon you will be running marathons,"
and just like that, Bhaskaran was the first member of the Cardiac-Rehab Running Club. He finished the 3 months program, and then began jogging daily at a local college ground. Soon he was able to run 10 km at a stretch.
"Now I am able to run as fast as my teenage son," says Bhaskaran proudly. "My wife is my biggest support. She makes sure I never miss a run."
The Running Club is a big part of his life. He now inspires other heart attack survivors to join the Running Club.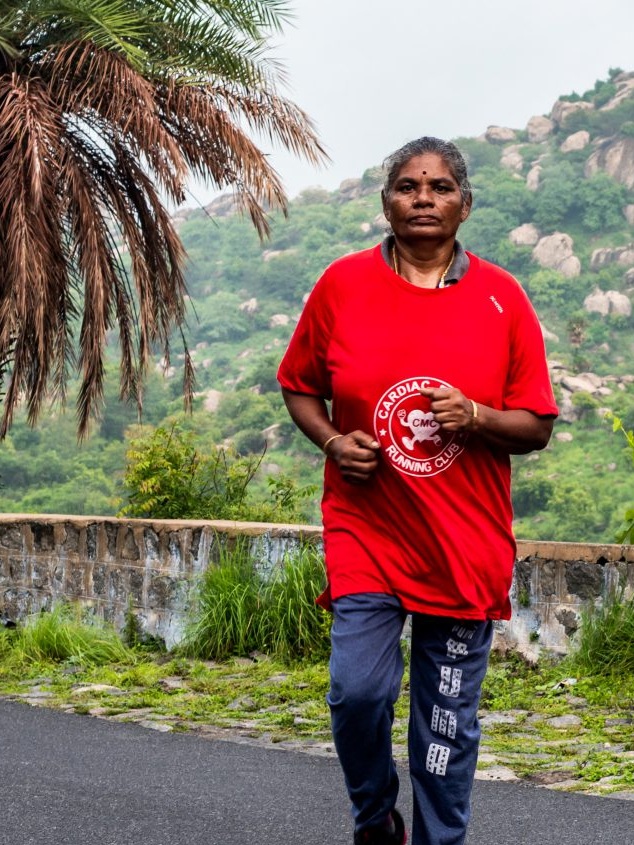 Racing towards recovery
Rani, 58, is a widow from Vellore. She lives with her 3 sons, daughters-in-law and 7 grandchildren. Last year, she had severe chest pain for a few days. She ignored the pain and kept working at home. But, one day the pain was unbearable, she felt dizzy and started sweating. So, her son rushed her to the Cardiac Emergency at CMC. She was very scared because her sister had died of a heart attack. The doctors operated and saved Rani's life. While she was admitted in the ward, she met the Cardiac-Rehab team.
"Akka, you will walk out of the hospital on your own feet,"

they encouraged her. She had never seen a treadmill before, but soon she was walking and jogging on it.

"The nurses were afraid that my sari would get caught in the machine. They asked me to wear pants! So next time I left home wearing track-pants and tied my sari on top of that,"

she says smiling.
Rani Keeps Running…..
After completing the Cardiac-Rehab programme, Rani was able to run 5km at a stretch. So, she could join the Running Club. She practices every single day, waking up at 5am to jog around the sports field.
Her neighbours used to tease her, "Is this the age to be running around?" they asked. But seeing her determination and persistence, some of them were impressed.
"Teach us to run like you," they said admiringly.
"Sure, just follow me."
she replied,
Her eldest son is her biggest supporter. When the running club planned a run to the top of Palamathi hills just outside Vellore, she decided it was too far away for her to go. But her son made sure she was with the Club on Sunday, and though it was a struggle to run up the steep slopes, she made it to the top!
"When people ask how a lady like me can be running, I tell them anyone can do it. If you have 2 legs, you also can be a runner,"

Rani smiles confidently.
Written to celebrate World Heart Day on September 29th 2019