One evening, Divya* was rushed into the labour room at CMC Vellore, in the 9th month of her first pregnancy. She has a very rare blood type – the Bombay Blood Group. Only four in a million people have this blood type!
We immediately tried to contact our regular donors with the Bombay Blood group. By the time we contacted the fourth person, Muthu*, Divya needed a blood transfusion as her haemoglobin was very low. But Muthu was working in Kanchipuram, about 70 km from Vellore. Despite the distance, late that night, he made the journey to Vellore and gave a pint of blood at the CMC Blood Bank.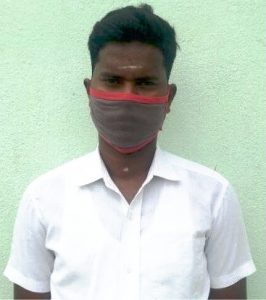 Join Muthu:
Donate Blood Save Lives
So, when Divya delivered her beautiful baby, the blood was ready for her. Thanks to dedicated donors, the blood bank team and our expert clinicians, we were able to save a mother's life in a rare midnight emergency!
World Blood Donor Day
On World Blood Donor day, (14th  June), visit a blood bank near you.
Donate Blood and Save Lives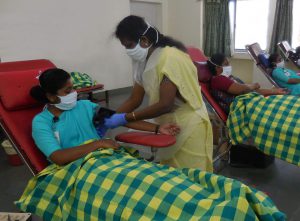 Lockdown has caused a shortage of blood. Staff here are helping to meet the shortfall.
Stay safe and keep others safe: Wear a mask and wash your hands both before and after you donate. Remember:
People Live when Others Give.
Even more so during the COVID Crisis! Thank you for your support.
Donate blood at CMC Vellore
If you would like to donate Blood at CMC Vellore, Come to the CMC Blood Bank anytime between 8.30 am to 8.00 pm, including Saturdays and Sundays. Our staff will be happy to guide you through the process. Just walk in, no need to phone or book before you come.
A member of staff at CMC? There is a special sign up list for you – see the intranet for details.
Safe Blood Saves Lives
Can't give blood? Make a different kind of donation towards our Covid-19 response today.

Story contributed by the Blood Bank Team
*names changed