The Second Wave of the COVID pandemic wrecked families and homes. In CMC Vellore we saw many patients with severe illness, some of whom may have fared better if they presented earlier or were treated earlier.
Kannan* and his family are one of them who went through a hard time. We met his son who had recovered from complications due to Covid. Raju* greeted us with a bright smile on his face though he was visibly tired. Being admitted in and out of the ICU for a month had left the child weak.
The 10-year-old was excited he was getting discharged that day. He had not seen his mother and younger sister for a long time. Kannan looked at his son fondly as he shared their story with us.
Raju had a mild fever for which his father gave him a few medicines. But when the fever did not subside, they took him to Low Cost Effective Care Unit (LCECU). Kannan was in disbelief when he was told his boy had Covid sometime back and that it had affected some of his organs.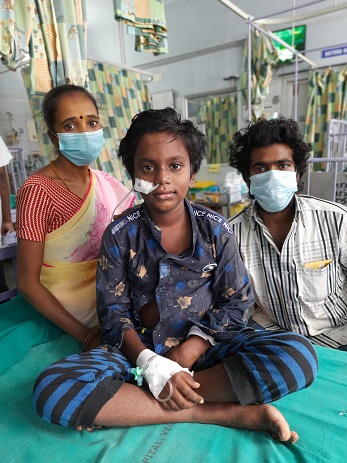 Raju was rushed to CMC and admitted in the ICU. The boy's stomach was swollen. Kannan could not bear to see his son in pain. His eyes filled up with tears as he remembered that day. He said, "My son never asks for anything I cannot afford. He is always happy and content even though I do not have much to give. I was willing to do anything to save my son and bring him back home." Kannan is a head load carrier in the vegetable market and finances were tight. The second wave was at its peak. He had no work due to the lockdowns. Kannan's wife was pregnant, so his sister spent time in the hospital with Raju. After weeks of caring for her nephew, she lost her job too.
At this critical time owing to financial support from well-wishers, Kannan was able to bring his son home without having to give away personal belongings or ask for huge loans. We are grateful to generous donors and organisations that gave so that we could help families like Kannan's.
Every gift goes a long way in helping them get the care they need. Thank you for your support!
*Names changed and photograph used with consent. Story and details contributed by LCECU, Department of Child Health and Paediatric ICU