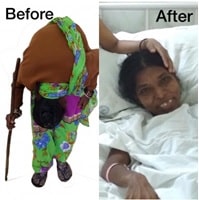 Dear Friend,

Hema* and her family live in a small tribal village in central India. Five years ago, the teenager began to have shooting pain in her legs and knees. The pain spread to her back. Her hips and spine were severely affected by arthritis. Soon Hema was completely bent over, her forehead touching her knees. Her father gave her a strong stick to use for support. Even though she could not stand straight or look up, Hema used the stick to keep walking, cooking and taking care of their paddy fields.
Her sister took her to a hospital in Simdega town where they met Dr George Mathew, a retired surgeon from CMC. "How will we pay for a big operation at CMC to make Hema stand straight again?" worried her sister. "We will all support you" Dr George reassured them.

Last month, Hema was admitted under CMC's Orthopaedic department and had two successful hip replacement surgeries. "I can't wait to go home and see my parent's faces" Hema smiles brightly, her head held high.
Hema needs rest and physiotherapy before she goes home. Our Person-to-Person fund covered most of her costs. Friends like you make it possible to transform the lives of young people like Hema. Donate to CMC today and help us bridge the gap!

Thank you for your support,

Hugh Skeil
Development Office,
Christian Medical College Vellore

Ps. Click here for more about Dr George Mathew, CMC's former Principal & retired Surgeon