The month of September is observed all over the world as Gynecologic Cancer Awareness Month. Early detection and treatment will save a woman's life! This is the story of Mariyamma who was able to have her treatment at the right time in spite of financial challenges.
47-year-old Mariyamma* lives with her family in a small village in Chittoor, an hour away from Vellore. She is a loving wife and a doting mother to her children, two daughters, and two sons. Her husband used to work but is not working anymore. Her daughters are married and settled. Her elder son Vinay* is the bread winner of the family and supports his younger brother's education.
One day (in 2021), Mariyamma noticed something unusual. Nine months after she had reached menopause, she had her periods with whitish watery discharge. This worried her. She decided to seek medical help. With her family's support she made her way to CMC Hospital in Chittoor. She was evaluated for her complaints with a scan and biopsy which revealed a grim diagnosis – cervical cancer. She was shattered.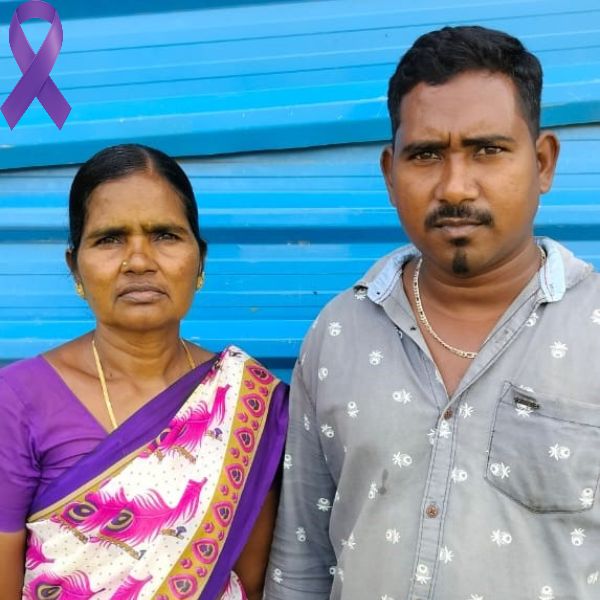 Mariyamma was referred to CMC Vellore Town campus for further treatment. Her family, though determined, did not have the means to pay for cancer treatment. They returned home with a heavy heart – without consulting specialists at CMC Vellore.
A few months went by, Mariyamma's health deteriorated and the pain was unbearable. She mustered every ounce of strength and returned to CMC Vellore Chittoor Campus in 2022. Her son Vinay had lost his job as an assistant supervisor in a small supermarket as an aftermath of the Covid-19 pandemic. Finances were tight. Knowing her financial condition, the medical team decided to provide free treatment under the Hospital Free scheme. Mariyamma began her cancer treatment with renewed hope. 'The doctor and the hospital staff took exemplary care of me throughout my difficult journey' she said. It was a long and challenging road, but by 2023, Mariyamma had completed all her treatments and was on her way to recovery.
She continued to visit the hospital for regular check-ups, once every three months and later, once every six months. The love and support of her family, coupled with the care of the doctors, had given her a second chance at life.
Every year thousands of women like Mariyamma are diagnosed with cervical cancer in India and almost 2/3rds of them do not make it past the 5th year following their diagnosis. The financial and socio-cultural implications often lead to delayed diagnosis and treatment.
The Radiation Oncology Department in CMC Vellore treats over 300 patients with cervical cancer each year. The treatment itself involves external radiation, chemotherapy and internal radiation (Brachytherapy) all of which are resource intensive. Apart from subsidising the cost of treatment, we try to help out with the food through CMC's meal coupons and subsidised accommodation through Chatram.
Donate and help more women like Mariyamma's have access to cancer care.
*Names changed. Picture and story used with consent.
Contributed by the Radiation Oncology Department