Read the story of the patient featured on the top here.
The Emergency Fund supports more than 120 patients every year in CMC. This was made possible by the kind and generous gifts from friends and well-wishers who donate throughout the year. The Emergency Fund solely depends on these contributions to help subsidise the cost of treatment for a patient!
Experience the joy of giving – help us raise our Christmas Giving target of ₹32 lakhs to benefit 40 patients this year! Your gift of ₹20,000 or more will save a life!
Donate Today!
Click here to read the Emergency Fund Report for April-September 2023
We believe everyone has the right to quality care.
"Join us to bridge the gap for those who can't afford it. Give to the Emergency Fund."
Every day thousands of suffering people come to CMC for healing. They come from all over India and the neighbouring countries. Many of them cannot pay for the treatment that they need. CMC tries its best to provide concessional or free care to the poor. But our resources are limited and the need is great.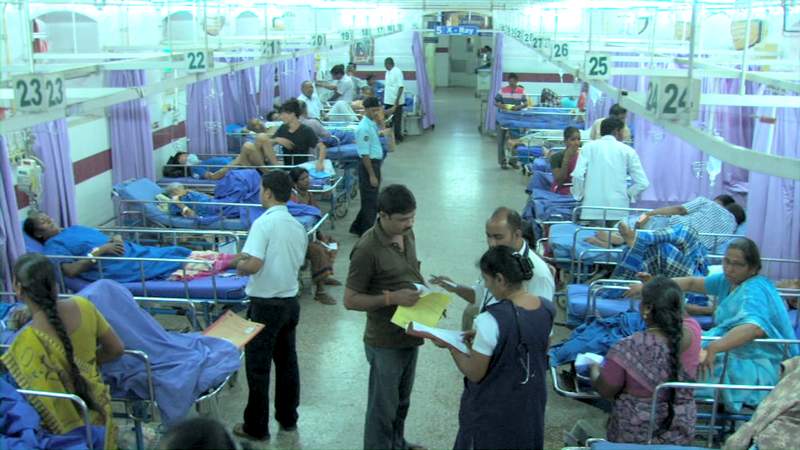 I Can't Breathe
Yatri was just 10 years old and found it very hard to breath. She has a recurring growth in her throat that slowly blocks her breathing. Normally she comes to CMC regularly for treatment, but the lockdown meant she could not come to see her doctors. So, slowly, but surely, her breathing got worse.
No Treatment in Purulia
Ten-year-old Yatri* lives in Purulia, West Bengal. Her father is a farmer and the sole breadwinner for the family of five. She has been treated, in CMC, for the recurring growths since 2015, and last visited us in February 2020. She, like many others, was not able to come for her regular checkup due to the lockdown. And so her growth got bigger and bigger, slowly blocking her breathing.
Baba, I can't breathe!
In September 2020, her father was desperate and took her to 3 hospitals. One was 700km away. But none were able to help her. So, the parents decided to travel to CMC in an ambulance. This was more than they could afford. But their village friends pitched in to cover the ambulance expenses. Yatri and her father started out on a Thursday evening and travelled to Vellore. A journey of 1,700 kms.
CMC Ready to Help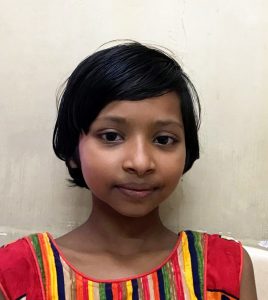 The team at the Paediatric casualty were ready for Yatri when the family arrived. The journey was over 24 hours and they reached the hospital early on Saturday morning. She was rushed to the emergency theatre. There was no time to wait for a COVID swab result as she was too sick. So the surgical team, from the ENT department, took extra precautions to protect against COVID. (This is standard procedure if the team does not know if a patient has COVID or not.)
I Can Breathe
The surgery was successful and little Yatri can breathe again. After all the expenses of the journey, her father could not afford the procedure. But, thanks to the donors who support the Emergency Fund, his daughter was treated. Today she is well and back home with her family.
Please join us and help others facing desperate times, through a donation to the Emergency Fund.
---
The Emergency Fund?
The Emergency Fund has been set up to help patients get treatment as quickly as possible. It was created for our marginalised patients. Many travel great distances for their loved one to get better. They spend all of their life savings, and more, on travel and accommodation leaving little for their treatment.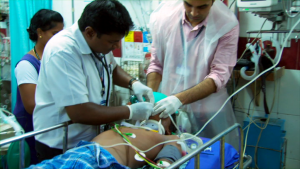 Others come to CMC and are not expecting a major illness to be diagnosed. But when they are told about the diagnosis and the treatment needed, they know they cannot afford it. And some have an accident that needs immediate treatment to save their lives.
But we never want to turn a patient away!
When?
So, when a doctor sees a patient who needs urgent financial support, the doctor can apply for a grant from the emergency fund. This way the patient can get their treatment as quickly as possible.
Only the treating doctor can apply for these grants.
How much?
Grants of up to Rs.1 lakh are given for a patient. It can help patients needing ICU care, trauma care, expensive operations, cancer treatment, costly medicines, tests etc.
Pay it forward
How can you help?
You can donate any amount for this fund. When you donate to the emergency fund, 100% of your gift will be used directly for patient care.
The Emergency Fund relies purely on donations from generous well-wishers. Kind friends, help us to do far more than is possible from our own funds. Help us to "Bridge the Gap".
Don't forget that donations can qualify for tax relief under S.80G: Details on Tax relief
---
More Patient Stories
Read about some of the other patients that this emergency fund has helped.
Burst Blood Vessel in Chest
Desing is a 51 year-old daily wage labourer from Ranipet. He is thankful to those who have donated to the Emergency Fund and to CMC.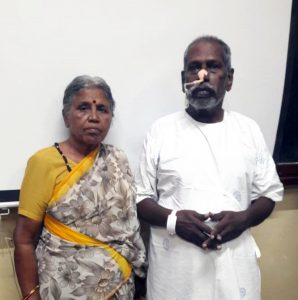 In December 2019, he vomited blood. An alarming sight for anyone and something that needs urgent treatment. His family rushed him to CMC. Here, the medical team found that a blood vessel in his chest had burst. And he needed an immediate stenting procedure to save his life.
The stent itself cost five lakhs, which Desing's family couldn't possibly afford. So, the CMC doctor rang the supplier and asked them for a discount. They graciously agreed to give it free of cost! CMC's Emergency Fund covered all the other costs of his surgery. And today, Desing is alive, happy and well.
Cardiology was the department looking after Desing. You can read more here: CMC Cardiology department.
Nishanth's son
Nishanth and his 2-year-old son came to CMC from Jharkhand. The little boy had trouble breathing. The doctors found that he had tumors in his lungs that needed removing. Nishanth has a small business and could not afford the treatment.
But, thanks to CMC's Emergency Fund and those who donate to it, the procedure was done. They are now back home with their family. And the little boy is happy and doing well today.
Donate today
Please join us as we seek to "never turn anyone away' and donate to the Emergency fund.
Your money will go to treat patients who cannot afford the cost of care that they urgently need. That care may be needed after an accident, for urgent cardiac treatments, care in ICU, for surgery etc. All your money will go to patient care.
Thank you.