Today we take a moment to remember the many women who have made CMC Vellore a special and unique College and Hospital. From pioneering leaders like Ida Scudder, to the many unseen hands that work quietly in the background. Village health workers, housekeeping staff, technical and office staff, many nurses and doctors whose dedication and commitment uplift those around them. We especially remember our women patients who come to CMC seeking compassionate care and healing. Please join in our efforts to support them and Embrace Equity in healthcare.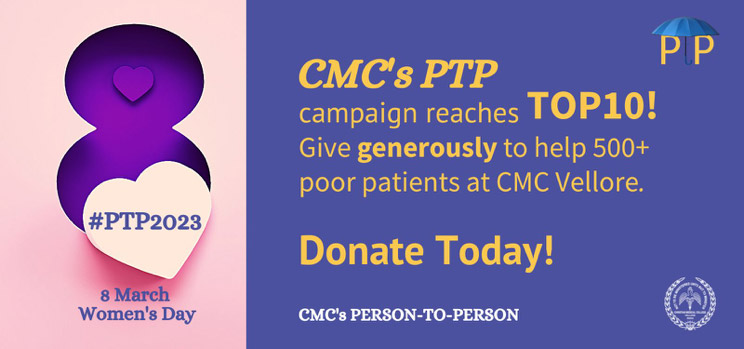 Thanks to you, CMC's #PTP2023 campaign is seeing a fantastic response! The generous contributions of 369 friends has put us in the TOP10 of this year challenge. We have raised ₹22 lakhs towards care for 200+ poor patients. Crossing 6 out of 9 'reward slabs' earns us an additional bonus of ₹3.5 lakhs on this GIVE challenge.
We have 23 days left to reach our goal and YOUR action can make the difference! On International Women's Day 2023, Embrace Equity and reach out to a poor family struggling to meet their health needs. Support #PTP2023 today on this link https://r.give.do/yhFMUEgw Send this message to 5 women who have inspired and influenced you for good. Donate to PTP in their honour. If you cannot donate today, share #PTP2023 on your social media handles, profiles and status.